15th March 2016
I thought it was about time I added an update to the site. As an active Radio Ham, today I received the radio that I only ordered on Sunday from Moonraker UK Limited. It's a 2m and 70cm transceiver for use in the shack and in the car for mobile operation. This is a super little rig for a very reasonable price. The model is the MT-270M and it came with the programming lead, the software was downloaded from the Moonraker web site. As you can see below, it took me very little time to programme it with all my favourite repeater and channel frequencies.
5th March 2015
Tonight I attended my local Ham Radio club SDARC and took part in their construction contest entering my Topband (1.8Mhz) transceiver that I built many years ago. This can be seen in my Ham Radio Page. Out of all the categories available on the evening, I entered my transceiver as Homebrew, and managed to obtain a second place with it. So I was very pleased to receive a plaque in recognition for my efforts as you will see below.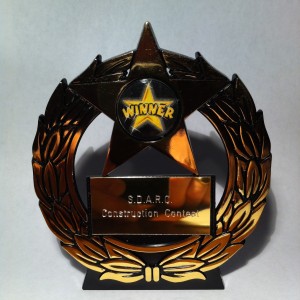 17th February 2015
My local Hungerford model aero club organised a lecture tonight on competing in scale model aircraft competitions. This was given by Mike Stuart a well know local enthusiast and he has a well maintained Web Site  that has wealth of information on this topic.
15th February 2015 
Today I have been spending time adding information from my old site into this new WordPress site. Having spent the past couple of weeks learning WordPress, I am now able to amend most of the pages, but still need to spend time sorting the pages to get them all looking right.